Rare Triumphs tarot
An alternative old-style tarot deck drawing on variant images and themes and ideas from the early history of tarot.
The Rare Triumphs tarot cards are now available to order! (scroll down)
Read a longer presentation about the background and creation of the Rare Triumphs cards here. Also with lots of pictures of the cards.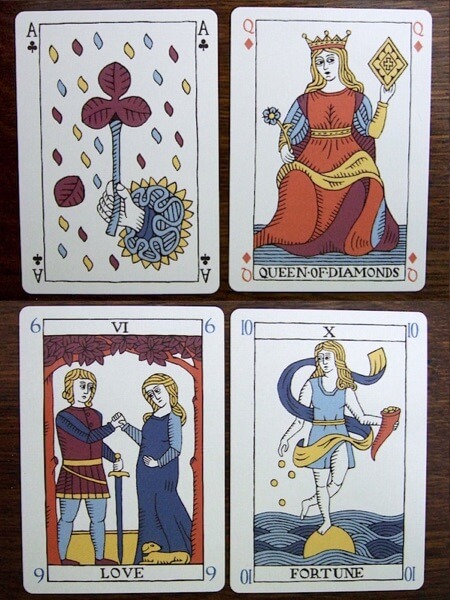 Ace, Queen, Love and Fortune
---
See the cards in use. Rare Triumphs on instagram: #raretriumphs and #raretriumphstarot
Watch on film. Here is Youtube playlist with some video presentations of the Rare Triumphs tarot (followed also by some videos about the original Pike and Clover cards).
---
Specs for the Rare Triumphs cards:
78 tarot cards plus four bonus cards; Hand-drawn artwork on every card; Two-way borderless back design; Poker size (approx 2.5" x 3.5"); Cards printed by Cartamundi, slimline stock, B9, linen; Custom tuck boxes. The cards are not cellophaned. A printed sheet of 22 verses is also included in the box.
---
Available to order now ...
Price: £23.00 (+ P&P)
Prices including P&P:
UK: £27.70
Europe: £35.55
Canada / Japan: £38.00
Australia / NZ: £39.45
USA: £38.75
Playing cards are sent from the UK.
The prices on the form above are for a pack of cards plus postage. If you want to order more than one pack of cards, it may be possible to offer a cheaper postage cost for the combined package. Please don't use the form, but contact me by email if you want to request this:
International orders of single packs of tarot cards will be sent by international tracked mail by default. UK orders will be sent by 2nd class post.